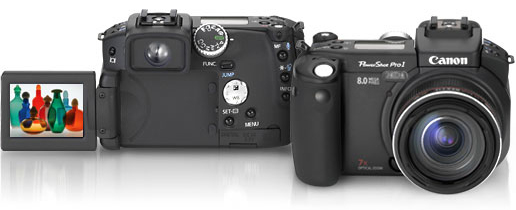 Canon PowerShot Pro1
Canon announced the latest camera in their PowerShot series at the PMA convention in Las Vegas. In the same category as the recent Fuji F828, this is an 8 megapixel all-in-one digital camera with built in 7x zoom lens (28-200mm in 35mm terms), with the traditional PowerShot rotating LCD screen on the back.
This is the first all in one digital camera Canon has released in over three years with a 7x or longer zoom range, and this is the first "L" series lens Canon has announced on a PowerShot camera. L series lenses are Canon's top of the line with flourite and ultra-low dispersion optical elements.
You can read the usual manufacturer's hyperbole at
Canon's website
.
Watch for previews (early information) and reviews (detailed testing) at
Digital Photography Review
and other sites linked from the DIGITAL PHOTOGRAPHY INFORMATION section of my
LINKS
page.
Canon's last two releases, the G5 and S50, were just a bit disappointing, receiving
RECOMMENDED
ratings from DPReview, instead of the
HIGHLY RECOMMENDED
ratings of the G3 and S45, the cameras they replaced.
If the image quality is up to par on this camera, it will be quite an exciting addition to the new group of 8 megapixel point-and-shoot cameras.