EDITING 16,000 SUPER BOWL PHOTOS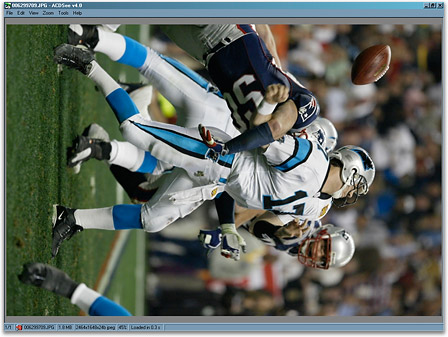 Viewing a single image in full-screen mode in
ACDSee
software. Super Bowl XXXVIII photo taken with a Canon EOS-1D by
Bob Rosato
,
Sports Illustrated
staff photographer.
Keeping track of digital images is a problem. I have taken 25,000 digital photos in the last 12 months. It takes time to go through them all, toss out the bad and mediocre ones, decide how to organize the keepers, caption them, and then burn them all to disc.
I covered a church convention for a religious periodical earlier this month. I took over 3,500 photos in 10 days. Every night I would download all the photos from CF card to laptop, do a preliminary edit and throw out all of the bad shots, pick around 100-150 of the day's best, and burn them to disc for the editors. Then I would pick 40-60 photos from the day to post online for friends to view (see the
World Conference albums
). Finally I would pick a handful of photos to illustrate
daily conference reports
written by my brother-in-law. This whole process - usually called "digital workflow" - would take at least a couple of hours per day.
So what would you do if you had to deal with 16,183 digital pictures taken by eleven photographers in the space of around 6 hours? Ask the photo editors of
Sports Illustrated
magazine.
And that is just part of a bigger challenge, dealing with over 1 million digital photos submitted each year to
SI
(and over 3 million in an Olympics year). It boggles my mind.
Picture an editor sitting in a trailer at the Super Bowl going through two photos per second for seven hours, picking "selects" for further review. Ouch.
It is not easy on the photographers either. There is all the the pressure of getting the great shot. As a side note, the equipment an
SI
photographer takes to a football or basketball game is staggering. "Staff photographer Bob Rosato's collection of gear is fairly typical. To a football game he takes four or five EOS-1D bodies and 600mm f/4, 400mm f/2.8, 300mm f/2.8, 70-200mm f/2.8, and 50mm f/1.4 lenses. For basketball, he adds five or six EOS-1Ds cameras and dispenses with the 400 and 600mm lenses. Of the ten or so camera bodies that he takes to a basketball game, many are of course mounted overhead or around the basket for remote operation." (
Sports Illustrated's
digital workflow
by Eamon Hickey)
The whole proces is really quite a story. Read it all
here
. My apologies in advance for some words I would prefer they did not use.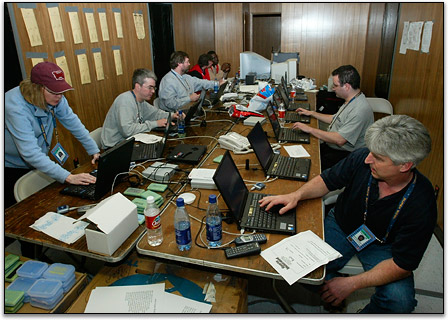 Downloading incoming Super Bowl XXXVIII photos to 10 IBM T40 laptops in the
Sports llustrated
media trailer outside Houston's Reliant Stadium. (Photo by Eamon Hickey/Little Guy Media)