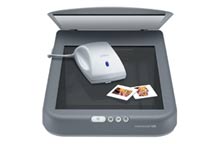 Epson Perfection 1260 Photo Scanner for $45
GOOD SCANNER - GREAT PRICE
Looking for your first flatbed photo scanner, or an inexpensive backup? This might be just what you want.
Epson is selling the Epson Perfection 1260 PHOTO Scanner in their clearance center for a closeout price of $45 while supplies last. This is a good quality flatbed scanner if you want to scan photographic prints to turn them into high quality digital files. These files can then be shared, emailed, altered, corrected, posted on the internet, or printed on a digital printer.
This scanner has enough resolution for turning small prints into larger prints. You can scan a 3x5 and turn it into a 5x7 or scan a 5x7 and turn it into an 8x10. With sufficient quality in the original print, you might be able to go two sizes larger. The original print must be of good quality to do this. You can't scan a mushy looking 3x5 and turn it into a good looking 8x10. With a mushy 3x5 you will end up with a really mushy 8x10. And that is true of any scanner at any price.
The Epson Perfection series of scanners has a very good quality reputation.
The Epson 260 scanner has 1200 x 2400 dpi resolution and 48-bit color depth which is good in and of itself and very good at this price.
This scanner comes with a 35 mm slide adapter for scanning slides. This will only work if you need small size files for posting on the internet, or for turning slides into small prints (3x5 or maybe 5x7 inches). This scanner does not have enough resolution for turning slides into large prints (8x10 inches or larger). This depends, of course, about how fussy you are about the quality of your prints. If you want to scan slides and make large prints, you will need to get a true film scanner or a very expensive flatbed scanner that is well suited to this task.
The scanner comes with a one year warranty. Details are at the Epson link below.
If you are looking for you first flatbed scanner, this is one very good choice.
More information is
here
.