A GREAT PENTAX DIGITAL SLR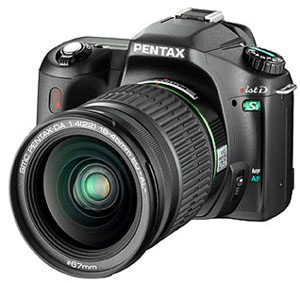 Pentax *ist DS Digital SLR
At last, there is a fine digital SLR that will take almost every 35mm lens Pentax has ever made. If you have a stable of Pentax lenses and have been wanting to go digital, the Pentax *ist DS may be just the camera you have been waiting for.
Although I use Canon cameras, I am always pleased to see a fine camera released by another manufacturer. It keeps everyone on their toes. We all benefit from the competition, no matter which brand we use.
It is especially nice to see this camera since owners of Pentax lenses that have wanted to go digital have felt like they have been left out in the cold. Pentax announced a digital SLR for Pentax lenses, but no camera materialized. Then Pentax announced they would stick to film and ignore the digital SLR market. Then they changed their minds again and announced they would be a major player in the D-SLR market. Now they have produced.
My favorite review of the Pentax *ist DS has none of the technical mumbo jumbo that many of us (including me) like to read. No side by side comparisons, no statistics, no long list of features, almost no photos. Just some thoughtful reflections on a fine camera by Mike Johnston. You can read his review at the
Luminous Landscape
.
There is a Preview of the *ist DS at
DP Review
. I am anxiously waiting for their full review.