NEW CANON DIGITAL REBEL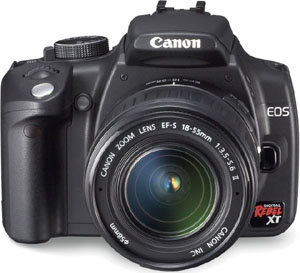 Canon Digital Rebel XT (350D)
If you are thinking about buying a Canon Digital Rebel (or any other camera, come to think of it), DON'T DO IT. Canon just announded the new Digital Rebel XT (350D). With a new 8 megapixel sensor and compatibility with the new EF-S lenses, this should be a very popular camera. It is that time of year and PMA, one of the biggest photo trade shows of the year, begins February 20. Manufacturer's are announcing new cameras and lenses right and left.
The new digital Rebel XT is in many ways better than the current model, and is expected to sell for the same or a little less. Unless you can get a huge discount on the current model it is worth waiting for the new version. If you are thinking about getting some other brand of camera, it is worth waiting for all of the PMA announcements to see if something better is coming along.
The Digital Rebel XT is smaller, lighter, and much faster than the current model. The new 8.0 megapixel sensor is larger and better and comes with the improved Digic II image processing technology for better image quality. Image processing is faster, write speeds to the memory card have been increased and the buffer has jumped from 4 images to 14 continuous jpeg frames at almost 3 frames per second. You can alsp have the camera write separate RAW and jpeg files for each image.
There is one change I am not keen on and that is the new, lighter battery. I like to be able to use the same battery in all of my cameras. It is handy that my G3 and 10D take the same battery and same charger. It is a nuisance to have to carry two kinds of batteries with spares. This may not be important to you.
One nice feature of this new camera is the ability to use the new EF-S lenses. One of these is the new 60mm macro lens. New wide angle lenses are availasble. Canon shooters with a camera budget under $1500 have been limited as to the number of truly wide angle lenses to use with the 1.6x field of view crop in current Canon digital SLR bodies. The EF-S 10-22mm lens (16mm at the wide end in 35mm terms) can only be used on the current Digital Rebel and 20D camera bodies. Everyone with a 10D that wants a true wide angle lens has been wondering whether to get a Canon 20D or Digital Rebel body, or get one of the recently available after-market lenses. The Digital Rebel XT is another option for using the EF-S 10-22mm lens. (It is possible to use the EF-S 10-22mm lens on the Canon 10D but it means cutting off part of the back of the lens with a hacksaw and risking potential damage to the 10D reflex mirror. There are directions are on the internet as to how to do this but you do so at your own risk.)
Another wide angle option is the pre-PMA announcement of a Sigma 10-20mm DC (digital only) lens, but I have not yet seen any reliable reviews.
Is the Digital Rebel XT for you? That depends on what you are looking for in a digital camera, and you might want to wait for some complete reviews to appear. In the mean time, there are previews of the Rebel XT at
DP Review
and
Steve's Digicams
.