NEW EPSON R1800 PRINTER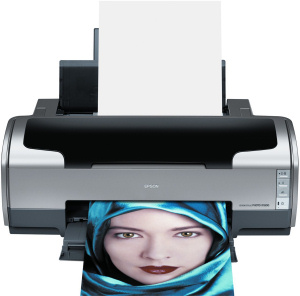 Epson Stylus Photo R1800 Printer
The latest Epson wide carriage printer produces true archival quality prints with 8 inks in large paper sizes. This printer could be another winner for Epson.
Epson has come out with a wide carriage version of the highly regarded Epson Stylus Photo R800. This printer uses 8 different ink cartridges and will take paper up to 13 x 19 inches in size. Print life, depending on the type of paper, will vary from 104 to 200 years, making this one of the few printers under $1,000 in price that produce archival quality prints.
Is this a replacment for the much loved Epson 2200? Possibly. There is no official word on that from Epson, at least not yet.
You can read more about this printer
here
.