Pentax *ist DS Digital SLR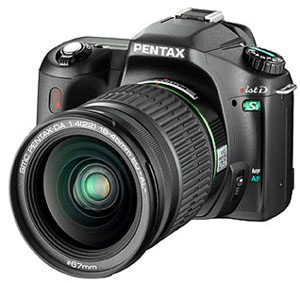 Pentax *ist DS Digital SLR
DP Review has posted a review of the Pentax *ist DS. The camera received a "RECOMMENDED" rating, the second highest that DP Review gives out. The camera is better than this rating would appear to indicate.
The primary reason for not giving this camera a "HIGHLY RECOMMENDED" rating is that the quality of the jpeg files differs so much from the RAW files. RAW files are excellent so the in-camera image processor that creates the jpeg files from the RAW data is not doing the job as well as it should. If you shoot primarily in RAW mode, this shouldn't be a concern. If you shoot primarily in jpeg, this might be a concern.
Read the
whole review
at DP Review to get the whole story.
Several weeks ago I posted a write up on a very different kind of review on the *ist DS by Mike Johnstone. He really likes this camera. For the additional perspective, read
Mike's review
.
If you have a bunch or Pentax lenses and you are thinking about going digital, this STILL might be the camera you want to get. Read both online reviews and think about it.
You can also read the digital SLR comparison in the April 2005 issue of POPULAR PHOTOGRAPHY magazine. The *ist DS is on page 88.