NEW EPSON PRINTERS

Epson has announced replacements for all of its upscale, archival printers. The new models are the 2400, 4400, 7800, and 9800. They replace the current 2200, 4000, 7600, and 9600. A new ink set has been created for these printers which includes three black inks. Preliminary testing indicates that prints will have an even longer archival life than the already excellent life span of prints from the current printers. The street price for all four printers should be about the same as for the printers they replace.
You can read more at
Digital Outback Photo
and
The Luminous Landscape
.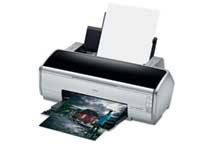 New Epson 2400 archival printer