PHOTO OF THE DAY - MARMOT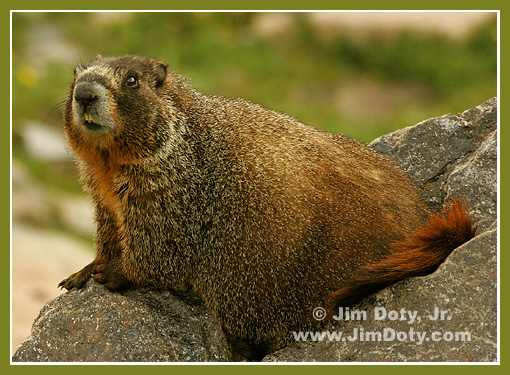 Marmot, Trail Ridge Road, Colorado. Photo copyright (c) Jim Doty, Jr.
This marmot was laying on a rock not far from the highway at "Rock Cut" on Trail Ridge Road in Rocky Mountain National Park.
Rock Cut has a parking lot, viewing area along the road, restrooms, and a hiking trail to a scenic lookout. It is a restricted area so you can only walk, hike, and photograph from the parking lot, viewing area and the hiking trail. There are other places on Trail Ridge Road where you are allowed to wander the tundra. Elevation at this point was slightly above 12,000 feet. Trail Ridge Road is the highest continuous paved highway in the United States.
Some younger marmots had been eating and playing most of the day among the grasses, flowers and talus rocks, but they all disappeared about 7:30 PM. There were also pikas and golden mantled ground squirrels gathering food. When the young marmots left, so did most of the people. A few die hard photographers, hikers, and painters were left. This marmot came out just before sunset.
Photographed with a Canon 20D and 100-400mm lens at a focal length of 400mm (the equivalent of 640mm in 35mm film terms).