IT'S OFFICIAL: THE NEW CANON 5D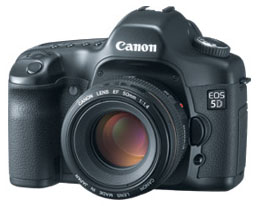 Canon 5D digital camera
It's now offical. After lots of rumors and a Canon news leak a few days ago, today Canon announced the EOS 5D digital camera with a full frame, 12.8 megapixel CMOS sensor with an expected price around $3300 USD. For everyone who has been wanting a full frame sensor in a less expensive body, this is a huge step in the right direction.
This camera will be about $4,600 less than the Canon 1Ds Mark II. While $3,300 can hardly be considered inexpensive, this is the same price point at which the 3 megapixel Canon D30 was introduced just five short years ago. A jump from 8 to 12 megapixels will be a boon for many photographers. It isn't as much as the 16 megapixels of the Canon 1Ds Mark II, but that would cost $7,900 USD.
The nice thing about a full frame digital sensor is that all of our wide angle lenses will have the same field of view as they do on a 35mm film camera. There is no
"field of view crop"
with this camera.
Canon has information
here
, and there is a detailed preview at
DP Review
. I am sure that detailed reviews of the camera will be eagerly awaited.
Canon also introduced two new EF lenses and updated versions of some of their point and shoot cameras. Of particular interest is the Canon EF 24-105mm f/4L IS USM. Look for a post on this lens soon.
Pre-order a Canon EOS 5D from
Adorama
or
Amazon
.