PHOTO OF THE DAY - INDIAN PEAKS WILDFLOWERS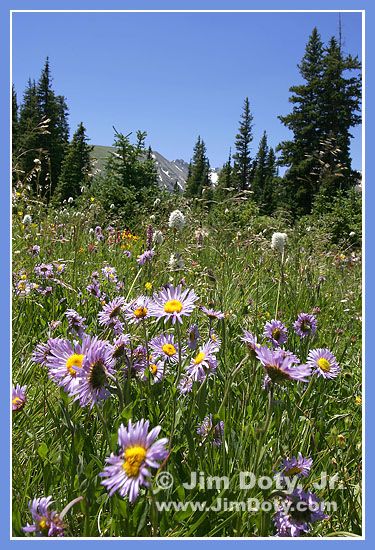 Wildflowers Near Long Lake, Indian Peaks, Colorado.
Photo copyright (c) Jim Doty, Jr.
Indian Peaks near Ward, Colorado (west of Boulder) is a beautiful area for hiking, camping, fishing, and photography.
These wildflowers were filmed in mid-July, not far from the trail that goes around the southeast side of Long Lake. The meadows all along the southeast side of the lake were filled with flowers.
To get to this area, go just north of Ward on Colorado 72 and turn west on the road to the Brainard Lake Recreation Area (there is a modest entry fee). The road will take you past Red Rock Lake (see photos in the July 24 and July 19 posts below) and on to Brainard Lake and the Longs Lake parking area. The hike from the parking area to Long Lake is a short one. The Indian peaks form a majestic backdrop to all of these lakes. Trails lead up into the Indian Peaks Wilderness. Trailer camping is available at Brainard Lake. This is one of my favorite areas in Colorado.
Canon 20D, Canon EF 17-40mm lens at 17mm in focal length. Aperture: f/16. Shutter: 1/100 second.