CANON 5D REVIEW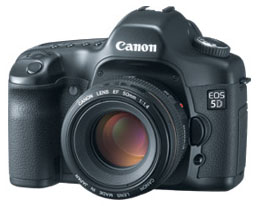 Canon EOS 5D
In August, I did a
"First Look" comparison
of the Canon 20D and the new Canon 5D.
A few days ago, Phil Askey at
DP Review
published a
detailed review
of the Canon 5D and gave it a HIGHLY RECOMMENDED rating, his highest. I am happy to report that this review confirms the observations I made in my article last August. In the review, Phil Askey says "The EOS 5D is a fantastic photographic tool which is capable of producing really excellent results. The caveat is that it takes a little more care and understanding of your equipment (especially lenses). We found resolution to be absolutely excellent with crisp detailed results straight from the camera (JPEG) and even more detail available if you shoot RAW."
Phil knows his stuff. DP Review is one of the most widely read and highly respected digital camera review sites on the internet. It has been recommended in several photo magazines.
What is so special about the Canon 5D? It is one of only two cameras now being manufactured that have a full-frame (35mm size) digital sensor. The other camera, the Canon 1Ds Mk II, sells for well over $7,000. The Canon 5D is currently selling for $3299.
The Canon 5D has a 12.8 megapixel sensor which equates to big enlargements. The large photosites (pixels) mean low noise at high ISOs.
So who is buying this camera?
A lot of professionals that use the Canon 1Ds Mk II are now using the Canon 5D as a backup body or when they want to carry a much smaller and much lighter weight camera body.
A lot of serious amateurs (and a number or professionals) are upgrading from the 20D to the 5D, which is the primary reason I wrote my article last August. The advantages of a large, full frame sensor in a relatively compact body make the price worth it for those who can afford it. If past history is any indication, the price should drop below $3,000 sometime in the next few months.
Is the Canon 5D for you? Read
my article
and the
review
at DP Review and then you decide.
Order a Canon EOS 5D from
Amazon
or
Adorama
to get a great price and pay no taxes (unless you live in a state that collects taxes for internet purtchases). Amazon will also give you free shipping. If you order using one of these links, it will help support my websites and won't cost you a penny more. Thanks.