PHOTO OF THE DAY: CLIFTON MILL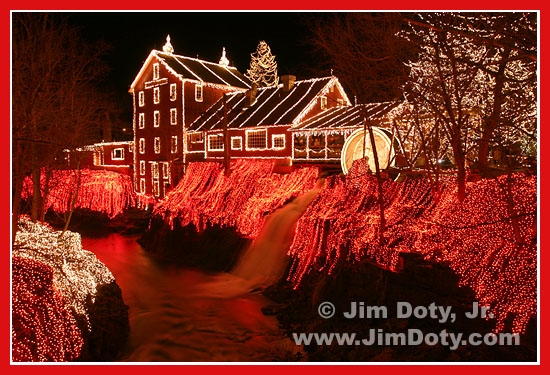 Clifton Mill Ohio. Photo copyright (c) Jim Doty, Jr.
Clifton Mill, built in 1802, is one of the largest powered grist mills still in existence.
Of several mills that were built along the Little Miami River near the Village of Clifton, Clifton Mill is the only one still in existence. Clifton is in the Dayton area and just east of Yellow Springs.
From late November through January 1 there is a nightly lighting display from 6 PM to 9:30 PM. More information is
here
. You can eat at the mill, shop at the store, and watch 3 million lights go on. Go early so you can park near the entrance. More mill infomation is
here
.
Both sides of the river bank are covered with lights. You can see one of two waterfalls to the left of the lighted mill wheel (the other is not visible in this photo). This photo was taken from a window on the covered briidge. The camera was tripod mounted to allow a long shutter speed.
If you want to make it a day, check out the art galleries and shops in Yellow Springs, then head east to Clifton for the light show. Some of the shops in Yellow Springs have a distinctive kind of "60's hippie" feel.
Canon 10D, ISO 100, daylight white balance. Canon EF 17-40mm lens at 17mm. Aperture: f/8, Shutter: 8 seconds.