PHOTOGRAPHY IN THE TUCSON AREA


Arches, North Court, Mission San Xavier del Bac. Tucson, Arizona, 1968. Photo © Ansel Adams Publishing Rights Trust.
Where would I go if I were in the Tucson area and wanted to take pictures? I've never been to Tucson, Arizona, but I do know the places that are highly recommended in a lot of photography magazine articles. The top three are the San Xavier del Bac Mission, the Arizona-Sonora Desert Museum, and Saguaro National Park.
San Xavier del Bac Mission is at 1950 W. San Xavier Rd, Tucson, AZ 85746-7409. Ansel Adams created one of his classic photos at the mission in 1968 (you can buy a print here from the Ansel Adams Gallery). An untold numbers of photographers, professional and amateur, have taken photos of the mission (one more here). Do a simple Google image search for the mission to see hundreds of photos.


Photos from the Arizona-Sonora Desert Museum web site.
The Arizona-Sonora Desert Museum (ASDM) at 2021 North Kinney Road, Tucson, Arizona 85743 is less than 15 miles west of the I-10/I-19 intersection (see the map below). By all accounts ASDM is a nature photographer's dream location. Cacti, flowers, and wildlife (including cougar, bighorn sheep, prairie dogs, and owls) are all there in natural settings, just waiting for you and your camera.
Saguaro National Park is also west of Tucson and just north of the Sonora Desert museum. The giant saguaros look their best in the warm light of sunrise and sunset with long shadows across the landscape, but good photos can be taken any time of day if the light is right. Scroll down this page to see the blooming seasons for annuals, perennials, cacti and trees. More info is at this unofficial site.
The photo below was kindly provided by Quang-Tuan Luong.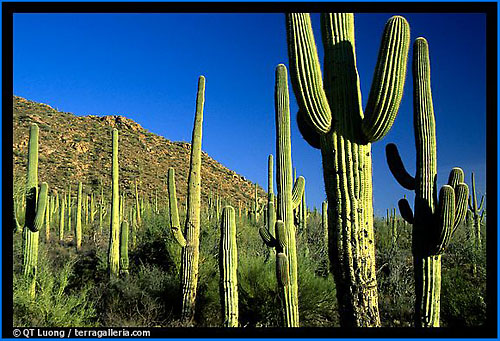 Saguaro cacti. Saguaro National Park, Arizona, USA. Photo © QT Luong. You can see more of his impressive photography at TerraGalleria.com, a larger version of this photo, and more photos from Saguaro National Park.
Based on what I've read, these locations will be at the top of my photo list the first time I am in the Tucson area.
If you have more time and can venture farther from Tucson, head west to Organ Pipe National Monument.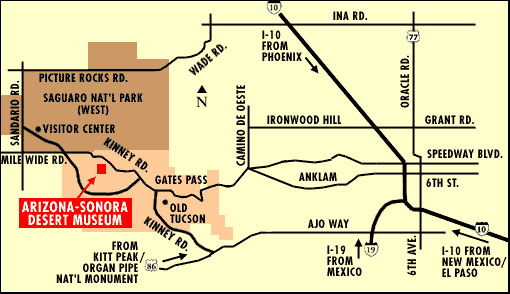 Map: Arizona-Sonora Desert Museum and Saguaro National Park
Update: March 22, 2006


Photo © Jared Doty
My son Jared called two days ago from Phoenix and asked for suggestions as to some good places to take pictures while he is in Arizona. That is what led to writing this post.
He spent yesterday in the Tucson area. He said ASDM is "very impressive" and much more like a zoo than a museum. He photographed a lot of the wildlife and really enjoyed the raptor show. It is a popular place and there were 100 people there to watch the hawks fly.
He went to the mission next. He wanted to know where Ansel Adams took his classic shot (he hasn't seen the photo). I found an image of the mission on Google Earth and told him where to set up on the north side to shoot through the arches. The back of the mission is filled with scaffolding for construction so it isn't currently possible to drop your tripod in Ansel's tripod holes. He did take other photos. The place is impressive.
He finshed up at Saguaro National Park and had a good time wandering around and taking pictures. He did have to watch carefully for rattlesnakes, especially the little ones that don't warn you when you approach.
Jared had a good time and would recommend all three locations.