ARCHIVAL PRINTERS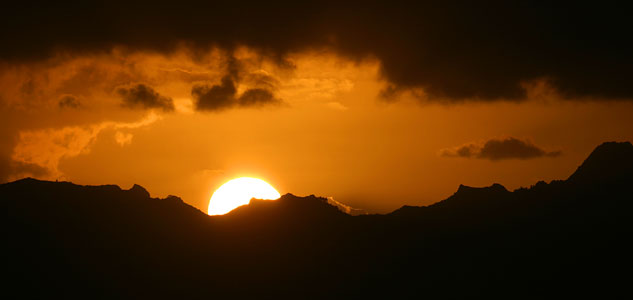 Sunset over Mo'orea, French Polynesia. Photo copyright (c) Jim Doty, Jr.
How long will your digital prints last? Based on the questions I am asked in person, the emails I receive, and the search words that bring people to my website, this is an important issue.
As more an more and more people jump into digital photography (since 2003, more digtal cameras are sold than film cameras), more and more photos are printed on digital printers at home. For small prints (4x6), it is still cheaper to take your memory card to a local lab where you can now get prints made for as little as 19 cents each.
As more and larger prints (8x10 and up) are printed at home to be enjoyed, given away, or sold, print life becomes an issue.
My first digital printer gave me good quality prints but the print life on display was about 2-3 years. If I needed a digital print to sell, I would go to a pro lab and have the print made on their multi-thousand dollar printer.
My second digital printer gave me better quality and a 10-25 year life span, still not long enough to sell so I still went to the pro-lab.
My current digital printer gives me excellent print quality that is as good or better than a traditional print with a display life "under glass" of 70-85 years. Photographers can now print ther own photos to sell.
You can get this kind of quality and print life in sizes up to 8.5x11 inches for $370. If you want prints up to 13x19 inches, it will cost you from $500 to $620.
You can learn more by reading the
Archival Printers
article at my website.