BE READY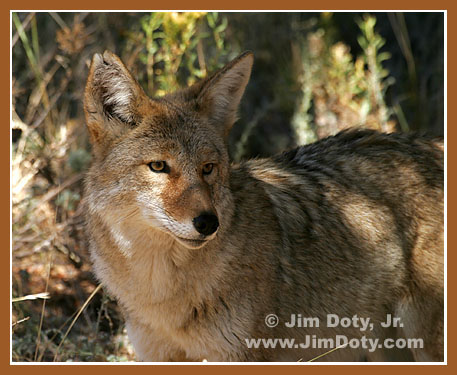 Coyote near Bear Lake Road, Rocky Mountain National Park, Colorado.
Photo copyright (c) Jim Doty, Jr.
Years ago, I read a book by Erwin Bauer that recommended having a camera and long lens ready to go when you are in locations that might provide brief opportunities to photograph wildlife. Not long after that, I was driving across the Texas panhandle and a coyote stopped right next to the road. I pulled over and looked at it and it stared at me for 10-15 seconds before it took off. I would have had a nice picture if my camera was ready, but it was zipped up in my camera bag. Not enough time to get it out before the coyote disappeared.
Recently, I was in Rocky Mountain National Park, a prime wildlife location. My camera and long lens were laying on the car seat, ready to go. I spotted a coyote hunting near the road to Bear Lake. I pulled over, grabbed my camera and lens and took the above photo, one of seveeral before the coyote ran off. I have this photo only because I was ready for such a moment. As the Boy Scouts say, "Be Prepared." I didn't get my coyote photo in Texas years ago, but I did in Colorado.
If you like to photograph wildlife, be ready when you are in a potential wildlife location. You might thank me some day. One more thing, Thank you Erwin Bauer!