BIGHORN SHEEP, HORSESHOE PARK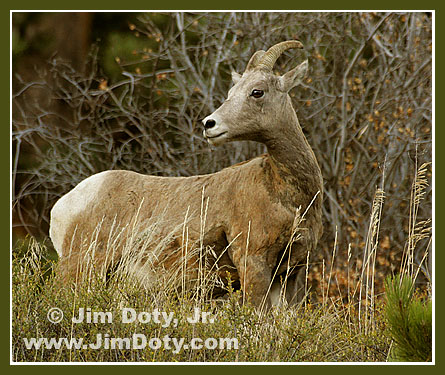 Bighorn Sheep Ewe, Horseshoe Park, Rocky Mountain National Park, Colorado.
Photo copyright (c) Jim Doty, Jr.
Horseshoe Park is the most convenient place in Rocky Mountain National Park to see bighorn sheep - if they show up. Sheep Lakes at the east end of Horsehoe Park are high in mineral content and sheep come down periodically to "get their vitamins." This happens most frequently in the summer, but even in the summer this may only occur only a few times a week and they may not stay around long. A few years ago I met a professional photographer who had been at the Sheep Lakes viewing area every day for almost a week and had not spotted one sheep. On the last morning before he had to fly home (the day I happened to arrive) he decided to give it one more try. He showed up and over 40 sheep were there. He was overjoyed with his good fortune. So was I.
This summer I spent three days in the Park and didn't see one sheep. One frustrated visitor, pretending he was the director on a movie set, yelled out "Cue the sheep." Part of the problem this summer was the presence of coyote's in the area. I saw one or more coyote's every day. The bighorn sheep were reluctant to come down to the lakes and risk the danger to their lambs. Bighorn sheep have one basic instinctive response to danger, climb fast and high. Unfortunately, that response leaves the young lambs behind and unprotected.
Sheep sightings are more rare in the fall. They still come down to the lakes but less often than in the summer. When I arrived yesterday afternoon, I was quite pleased to see two ewes and two lambs. They weren't very big in my viewfinder. A man came up to me and asked if they were elk. I told him they were bighorn sheep. Then he proceeded to tell his son that they were two rams and two lambs since the female's don't have horns. Actually the ewes do have horns. Only the males get the big full curl.
It was obvious when they wanted to cross the road and head back up the mountain. The rangers stopped traffic to let them cross. The good news is that they climbed only a small ways above the road and paused to feed in the grass, giving everyone there a chance at some nice photos (see above). Shutters fired like crazy.
The sun had set by the time they crossed the road, so I set my camera at ISO 800. This allowed a fast enough shutter to minimize motion blur and also to stop down a bit for just a little more depth of field than shooting wide open at f5/6.
If you come to Rocky Mountain National Park, be sure to check out Sheep Lakes on the eastern side of Horseshoe Park.
More Colorado photos from this summer and fall are
here
. Posts about some of these photos are farther down the page in this blog.
Canon 20D. Canon EF 100-400 IS lens at 400mm. Aperture: f/7.1. Shutter 1/160.