LONG'S PEAK REFLECTION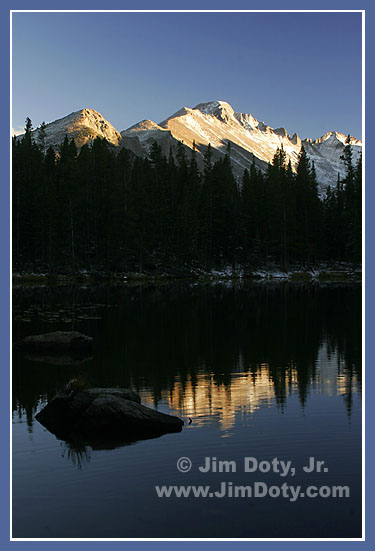 Long's Peak Reflected in Nymph Lake, Rocky Mountain National Park, colorado.
Photo copyright (c) Jim Doty, Jr.
It was late in the day and the last bit of sunlight was disappearing as shadows of other mountains crept up the side of Long's Peak. I tried several locations on the shore of Nymph Lake and chose one which would show the rippled reflection of Long's Peak along with a rock in the water to add a foreground center of interest at lower left to balance the mountain ridge at the upper right.
Canon 20D. Canon EF 28-135mm lens at 28mm. Aperture: f/16, shutter: 1/5 second.