PHOTO OF THE DAY: HOUSE FIRE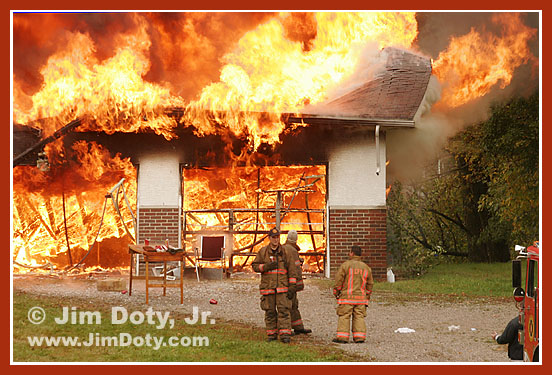 House Fire. Columbus, Ohio. Photo copyright (c) Jim Doty, Jr.
It was cloudy and raining when I took this photo so I set my camera at ISO 400 to give me a small enough aperture for enough depth of field plus a shutter speed fast enough to keep from blurring the fire.
The brightness of the flames can fool the camera meter so I set my camera on manual and did a "substitute gray card reading" off of the back of my hand and opened up one stop (my hand is one stop lighter than an 18% gray card).
The camera, lens, and I got wet but the photo was worth it. Most modern cameras and lenses can survive a little rain. Of course you takes yours out in the rain at your own risk.
As you can see, the house was a total loss.

Canon 20D digital camera. Canon EF 70-300mm DO IS lens at 300 mm with image stabilization turned on. Shutter: 1/125, Aperture: f/10.