PHOTO OF THE DAY: THE PATH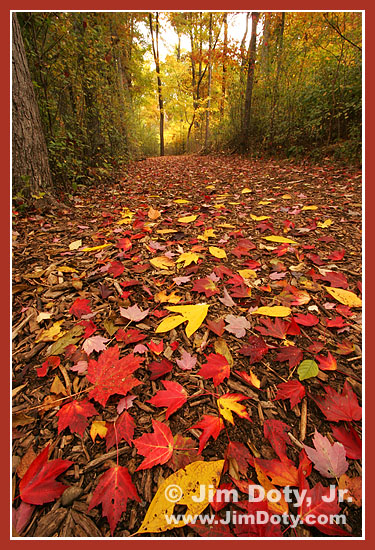 The Path, West Lake Nature Preserve. Portage, Michigan. Photo copyright (c) Jim Doty, Jr.
Michigan has some of the most splendid fall color in the country. Maple trees turn orange, red, and crimson, and fill the hillsides with glorious color. My favorite places in Michigan to film fall color are in the U.P. (upper peninsula) and the northern part of the mitten (just draw a line from Traverse City to Alpena and drive anywhere within 50 miles north or south of the line).
Farther south, the West Lake Nature Preserve (WLNP) is a little piece of wilderness right in the middle of Portage, Michigan (just south of Kalamazoo). There is something to film there almost any time of year. WLNP is one of my favorite places to take photos.
Earlier this week I took the above photo on one of the WLNP walking trails. It was cloudy and the forest was filled with soft light. The trail was covered with recently fallen leaves. The camera is on a tripod and quite low to the ground. I used a wide angle lens and a small aperture to maximize
depth of field
.
Canon 20D. Canon EF-S 10-22m lens at 10mm (equivalent to 16mm in 35mm film terms). Aperture: f/22, shutter: 1.6 seconds.