PHOTO OF THE DAY: WET MOUNTAIN VALLEY, COLORADO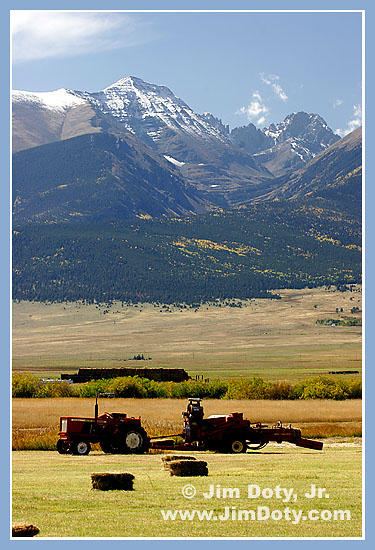 Wet Mountain Valley, Marble Mountain, Crestone Needle, Crestone Peak.
Photo copyright (c) Jim Doty, Jr.
The Wet Mountain Valley in southern Colorado is sandwiched between the Wet Mountains on the east and the Sangre de Cristo ("Blood of Christ") Mountains to the west. It is a beautiful place to take pictures. The whole Sangre de Cristo range rises dramatically from the valley floor and is quite spectacular, especially when snow covered. Pictured above is a small slice of the range.
Canon 20D camera. Canon EF 28-135mm IS lens at 105mm. Aperture: f/11. Shutter: 1/30.