CREATING A CALENDAR AT LULU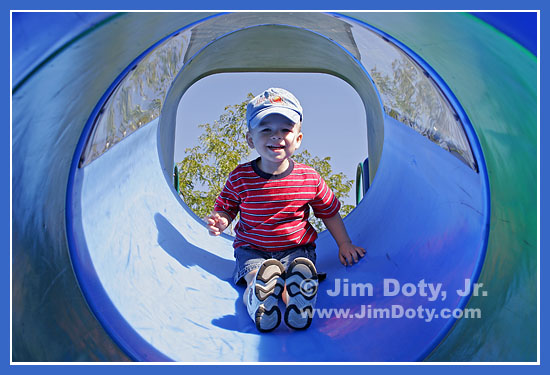 Drew in the Dragon Slide. Photo copyright (c) Jim Doty, Jr.
What to do with all of your digital photos! Have you thought about making your own calendar?
My children are working on their annual Christmas calendar with photos of our grandchildren. In the past they have printed their own, using a
template
and adding family dates to the calendar.
This year they are thinking about using
Lulu
to print the calendars since Lulu allows you to add your own unique events to the days on the calendar.
They asked me to edit the photos to get them ready for Lulu's printer.
I have read varying reports on the quality of calendars printed by Lulu, anywhere from "pretty disappointing" to "quite good." I think part of the problem is the quality of the files that people send to Lulu.
I've seen my website on enough different monitors to know that the color accuracy of monitors ranges from excellent to awful. If people edit a photo on their own monitor, and the monitor's color balance or brightness is way off, the resulting photos they get back will be pretty disappointing. I happen to know my monitor is in good shape. The photos I send out to several service bureaus come back looking like the photos I see on my own monitor.
I haven't sent photos to Lulu before. I've read a lot of advice, some of it conflicting, as to what kind of file to send to Lulu for the best results. Today I sent a calendar to Lulu as a test. I sent five photos (or photo pairs as one image file) in three different file types: Adobe RGB, sRGB, and U.S. Web Coated (SWOP) v2.
I optimized each image as an Adobe RGB file first, the file type I use for doing my own archival printing. Then I converted each photo to an sRGB file and saved it again with a different file name.
Lastly I turned on Proof Colors in the Photoshop menu (go to View > Proof Colors and make sure "Proof Colors" is checked). Then I went to View > Proof Setup > Custom. For a profile I chose Working CMYK - U.S. Web Coated (SWOP) v2. I checked: Use Black Point Compensation, Ink Black, and Paper White. I unchecked: Preserve Color Numbers. The color went flat and dark. I re-edited the photos to bring back the color, saturation, and contrast and saved them again with a different file name.
I logged on to Lulu, created an account, and created a test calendar. I used each image three times, once as each different file type. When the calendar was complete, I ordered a copy for myself. When the calendar arrives in the mail, I will compare photos and see which file type gives me the best results on Lulu's printer.
I will keep you posted as to which file type is best and if I like the overall results.
You can see the test calendar
here
. The calendar is viewable by the public so my children can order a copy for themselves and see how the different file types came out. I will eventually make the calendar non-viewable by the public since it is purely experimental. Besides, who would want to order a calendar that has the same photo three months in a row. Now is your chance to preview it.
Creating an account and a calendar at Lulu was quite easy. If you would like a way to create a calendar for your friends, Lulu is a simple way to go. It doesn't cost anything to create the calendar. You only pay for what you order and you can order as little as one copy. Prices are quite reasonable.
It should take 7 to 10 days to get my calendar. I will report back then. If I like what I get, I will create a nature calendar for 2006. If I do, it will appear
here
.