MY NATURE CALENDAR IS AVAILABLE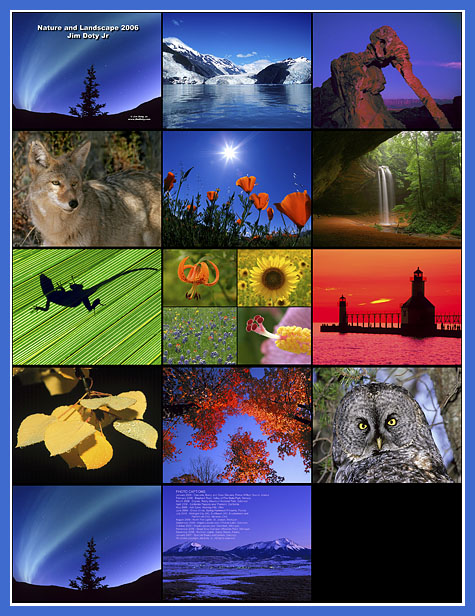 2006 Nature Calendar Preview
You can order the calendar (and see a larger preview) by going to
Lulu.com/Jim Doty
.
If you've been following my posts about Lulu.com, you know about my experiment with file types and their printer.
If not, you can read more
here
and
here
.
The short story is that I sent a test calendar to Lulu with photos of my grandchildren as three different file types. When the test calendar came back last Saturday, I knew what kind of file to send to Lulu to get the best results. I uploaded the photos for my nature calendar Saturday evening. The calendar shipped from Lulu on Tuesday and arrived here today. That is pretty good service.
The calendar looks good. I am pleased with the overall results. For those of you who have been asking me to do a nature calendar, it is now available.
The preview above shows the cover and the monthly photos. You can order the calendar (and see a larger preview) by going to
Lulu.com/Jim Doty
.
If you want to do a calendar of your own photos but have someone else print it, I recommend Lulu. Be sure and send them properly edited sRGB files (see the above linked posts).